When it comes to prototyping, it can be very tough to find the right tools very quickly. It can take a lot of time and effort for you to get the results you want, and the experience is more than interesting in the end because of it. But you have to wonder, how can prototyping tools help you and which are some of the best in the industry? Here you can find a good, creative list with some of the best ones on the market.
If you want to opt for high quality prototyping, then you always need to try out all the latest tools. New products are appearing on the market all the time, so finding the right ones can be quite helpful for you in the long term. Once you do that, you will find that the results can be more than ok.
Figma
The reason why Figma is included in this list is because it allows you to design, prototype and get feedback in a single place. Not only that, but it's available on most platforms without any hassle. You can create the prototype on the spot and you can easily use some nice features that you enjoy.
Since everything is browser based, you don't have to worry about the inability to get the latest versions. You can also study the current prototype and compare it with the other ones that are already available. There's a single source of truth for the design files and everything is performed visually. The results are great because of that, and it does go to show that the experience gets even better with help from this tool.
Their canvas also allows you to perform the process in a collaborative way. You will even be able to comment on the design in real time, which can make the entire experience a lot more rewarding and interesting than expected.
Pros:
Collaborative prototyping
You can connect with your team and make changes on the spot
Free for 3 projects
Easy to use interface.
Cons:
No downloads, no control on what version you can use
Saves are performed automatically, you may lose some changes at times
Invision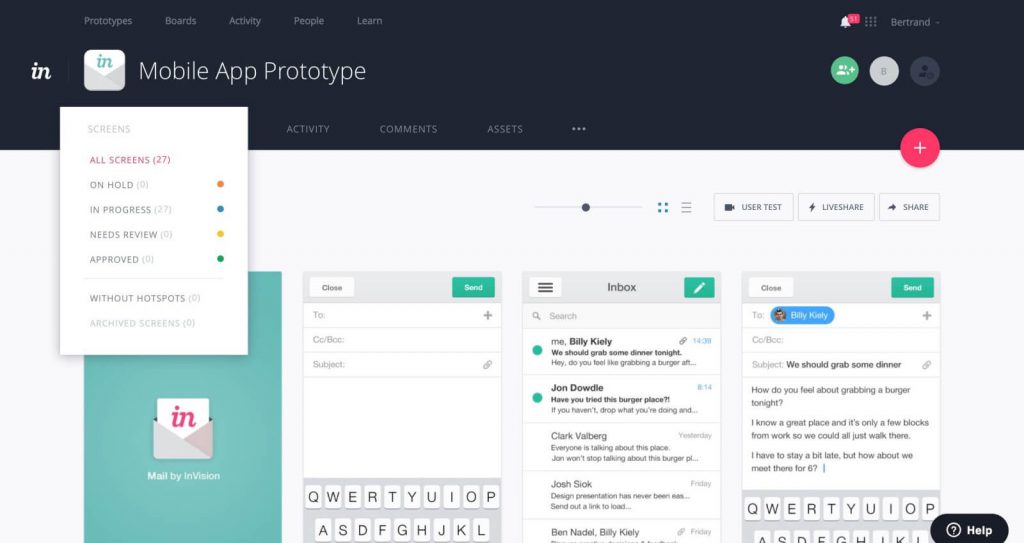 Maybe the best thing about the Invision app is that it allows you to create great designs fast and with a tremendous focus on convenience. The value can be more than ok, and the outcome will be extremely interesting because of it.
Thanks to this platform, you can perform quick prototyping very fast and you can easily show him a working prototype without spending a lot of time on it. This is great for freelance UI and UX designers that want to create a good reputation in the online world. There are numerous features and possibilities to be had in here, but the experience on its own can be quite interesting.
They also added Slack integration, embeddable prototypes, automatic syncing and other great features. All of these things tend to shine a lot and the overall experience can be quite interesting as a whole!
Pros:
JIRA and Slack integration
Embeddable prototypes
Project management features
Automatic syncing
Version history
Cons:
It's not as comprehensive as other tools
A bit challenging to learn at first
UXPin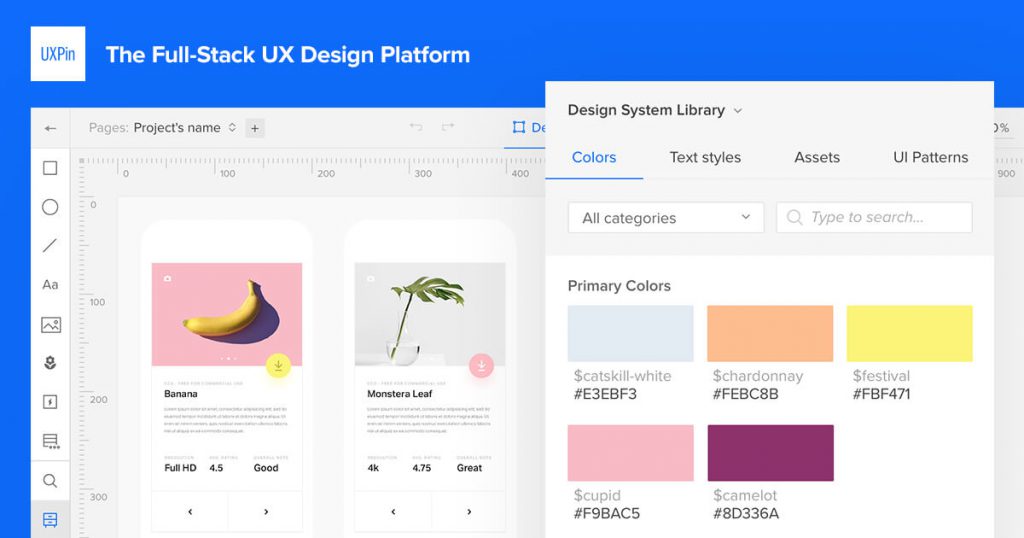 UXPin may not have the best interface on the market, but it shines because it delivers the features you want and you can use them however you see fit. This is a great tool for people that just want to drag and drop to the prototype. It's also full of libraries that you can easily use to make the designs stand out. This means you can easily use your assets to create wireframes and prototypes with little to no effort.
You can use UXPin for both mobile and desktop prototyping. The experience gets to be very good because of it, and the value can indeed be quite amazing due to that reason alone. It will certainly work help you add numerous elements to each interaction, and they even have an eye dropper tool. This makes using the app very convenient and simple, exactly what you may need. The developers also added more than 80 free icons here, all of which can be used on mobile and web alike!
Pros:
More than 1000 elements to choose from
Sketch and Photoshop plugins
80+ icons
Add unlimited elements
Cons:
It doesn't have an intuitive interface
Takes a while to get used to
Axure